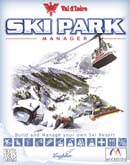 Create, manage and develop your own ski resort !

Create your own infrastructure, hotels, chalets or slopes wherever you want onto the mountains, ensuring that your customers feel comfortable in your resort. Keep cool when confronted by unexpected events; manage your employees and the influx of holidaymakers in town and on the slopes. Control hundreds of parameters… Fine strategy and management are a prerequisite!

Your mission is to build a winter sports resort and provide the quality services needed to keep your holidaymakers happy. To succeed, you will need to think both tactically and strategically, have a cool head on your shoulders when faced with the unexpected and the ability to manage hundreds of tasks simultaneously!






At last winter is upon us and people are rediscovering the delights of snow sports and skiing. There's one hitch: unless holiday makers enjoy climbing mountain sides by themselves and skiing in their socks, someone is going to have to construct a ski resort so that they can enjoy their holiday.

Step by step and ski by ski, we're going to take a look at the major construction stages of a ski resort.
>> all the tips !
NEWS

Ski Park Manager is out now!

Tips and quickstart are available : check it now !

The official forum is open
Click here !
(02-20-2002)